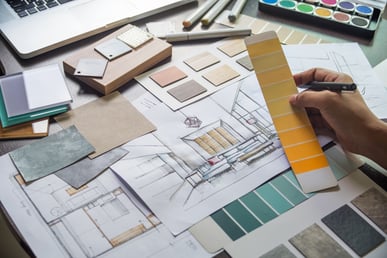 Interior Design Intern
Come join Architecture Incorporated this summer as an Interior Design Intern at our Rapid City office! We are currently seeking an interior design student, at the junior or senior collegiate level, who is creative, has a passion for design, and has a great work ethic to join our firm this summer. The intern will be mentored and supervised while providing support for our interior design team.
This is a full-time, paid internship that will begin May 15, 2023, and end August 11, 2023, with available flexibility. Applications will be accepted until the position is filled, ideally by March 31, 2023.
Interested candidates should submit a resume and portfolio to: LisaVandeVoort@Architectureinc.com.
Interns will be given opportunities in the following areas to become familiar with the role Interior Designers play within an architectural firm:
Materials library

Organize and provide general upkeep of the materials library.
Help identify and order standard samples to keep on hand.

Project assistance

Provide project material research and selection assistance.
Prepare project material boards.
Complete material and finish schedules.
Attend meetings and site visits with the design team.
Participate in client presentation meetings with direction from Designers.
Prepare client meeting minutes with direction from Designers.
Assist with documentation during meetings for Revit updates.
Draft and render projects with direction from Designers.
Prepare project Close-out binders.

Attend product manufacturer's representative meetings with Designers.
Update interior design contacts.
Ideal candidate should:
Effectively juggle a variety of responsibilities, with a strong emphasis on organization and follow-up skills.

Collaborate efficiently in a team environment and work independently with supervision from our interior design staff.

Possess great interpersonal skills (listening, diplomacy, responsiveness).

Professionally communicate with the interior design team, clients, contractors, and consultants.

Be detail-oriented, self-motivated, and have a professional work ethic.

Be capable of independent thinking and possess creative abilities.




Education:
Junior or Senior Interior Design Student at an accredited institution


Experience:
Experience using Revit, SketchUp, Enscape, Adobe InDesign, Adobe Photoshop, Bluebeam, or similar rendering software


Why Architecture Incorporated?
Architecture Incorporated strives to employ excellent individuals and to provide our staff with an environment that encourages and recognizes personal growth, high achievement, and outstanding service to our clients. We have repeatedly been recognized by Prairie Business Magazine as one of the Top 50 Best Places to Work in the region. We have also been recognized as an Emerging Professional Friendly Firm by the AIA North Central States Region. Our culture is inclusive and positive with ample opportunity to grow and develop your technical and interpersonal skills. We encourage professional growth and lifelong learning for our employees and invest our time and resources to create an environment where staff can interact and collaborate in a meaningful way.
Architecture Incorporated was founded in 1976 and our reputation has grown in the region due to our ability to provide excellent service to our clients on budget and on time. Our portfolio of work is varied but is primarily comprised of education (both K-12 and higher education) and healthcare. From inception, the firm's leadership has placed an emphasis on giving back to the community. This is done through sponsorships, charitable donations, volunteering, and serving on boards in organizations.
Architecture Incorporated is an equal opportunity employer. All qualified applicants will receive consideration for employment without regard to race, color, religion, sex, national origin, status as a qualified individual with a disability, or status as a protected veteran. Wage DOQ. Learn more by visiting our website, www.architectureinc.com.