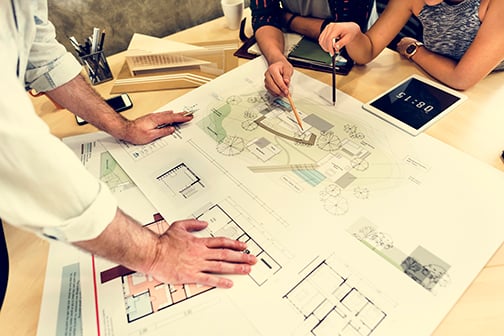 LICENSED ARCHITECT
Do you have a passion for architecture and want to make a difference through design? We are looking for someone with creativity, experience and a great work ethic to join our firm. We are in need of an individual with experience in all phases of project management including programming, pre-design, schematic design, design development, and construction administration. Architecture Incorporated is a respected leader within the region and our team is comprised of dedicated professionals who strive to provide high-quality design and excellent service to our clients. In addition to aligning with these core values, the successful candidate must also be willing to help mentor junior staff as they grow in their craft. You won't find any egos within our office walls. We treat one another with respect and embrace a culture that fosters collaboration and encourages personal growth. By taking such good care of our own team, we know that they will in turn take great care of our clients. This is reflected by the fact that more than half of our staff has been with the firm for a decade or longer and a significant portion of our work is for repeat clients.
Responsibilities:
Participate in the development of proposals and interviews to obtain new work
Oversee architectural production and delivery of design solutions throughout all phases of a project (including new facilities, additions or remodels)
Prepare specifications
Perform code analysis
Monitor budget to ensure the project is progressing in a cost effective and timely manner
Keep up-to-date on new technologies, trends, and innovative best practices, and recommend changes and new services as appropriate
Mentor junior staff in all facets of design
Assist in maintaining existing client relationships and developing new business connections
EDUCATION
Professional Degree in Architecture from an accredited school
EXPERIENCE
10 + years of experience
Advanced knowledge of architecture and design concepts, practices, and methods
High level of creativity, innovative thinking, and problem solving
Experience in Revit, SketchUp Bluebeam, Lumion and/or a similar rendering software
Experience directing or coordinating work efforts of team members, including consultants & contractors
Strong verbal and written communication skills
Collaborative and professional work ethic
Must be a licensed architect
WHY ARCHITECTURE INCORPORATED?
Architecture Incorporated strives to employ excellent individuals and to provide our staff with an environment that encourages and recognizes personal growth, high achievement, and outstanding service to our clients. We have been recognized by Prairie Business Magazine multiple years as one of the Top 50 Best Places to Work in the region. We have also received the NCSR Emerging Professional Friendly Firm Award. Our culture is inclusive and positive with ample opportunity to grow and develop your technical and interpersonal skills. We invest our time and resources to create an environment where staff can interact and collaborate in a meaningful and productive way.
Architecture Incorporated was founded in 1976 and has grown to be the largest architectural firm in South Dakota with offices in both Sioux Falls and Rapid City. From its inception, the firm's leadership has placed an emphasis on giving back to the community. This is done through sponsorships, charitable donations, volunteering, and serving on boards in organizations. Our portfolio of work is varied, but is primarily comprised of education (both K-12 and higher education) and healthcare.
ABOUT SIOUX FALLS
Sioux Falls is a community of 176,000 that continues to grow each year and is bursting with opportunity. In 2019, for the third year in a row, it was ranked by SmartAsset as No. 1 Best City for Young Professionals. Forbes has placed Sioux Falls as the No. 1 best small city for business and careers for two years in a row, and it has been in the top 5 for the past 14 years. Sioux Falls boasts affordable housing, good public schools and lots of fun activities year round. South Dakota does not have a state income tax.
Architecture Incorporated is an equal opportunity employer. All qualified applicants will receive consideration for employment without regard to race, color, religion, sex, national origin, status as a qualified individual with a disability, or status as a protected veteran. Benefits include paid time off, holiday pay, health, dental, life, short-term and long-term disability insurance, and a SEP-IRA. We offer a fast-paced, challenging and fun work environment. Wage DOQ.
Interested parties should submit a cover letter, resume, portfolio and salary requirements to Lisa VandeVoort at mail@architectureinc.com.