Elizabeth Squyer
Architect
Designing spaces that enrich life and celebrate the human spirit is important to Liz Squyer, AIA. She is ever mindful of barriers that may hinder access, growth, and collaboration. Her extensive knowledge of The Americans with Disabilities Act requirements and skill at managing those intricacies have allowed her to complete several accessibility studies for our clients. Liz has been with Architecture Incorporated since 1992 and has worked on a range of projects include the Minnehaha County Courthouse, Prairie West Branch Library, and University Center.
"To create architecture is to put in order. Put what in order? Function and objects."

Le Corbusier
EDUCATION:
Adapting Historic Buildings & Sites for Accessibility
Advanced Training in ADA Standards & UFAS Design Compliance
REGISTRATION:
Registered Architect: South Dakota
PROFESSIONAL INVOLVEMENT:
Member, American Institute of Architects (AIA)
Past President and Member, American Institute of Architects South Dakota
Past Member, City of Sioux Falls Building Board of Appeals
Member, South Dakota State Historical Society
Past member, South Dakota State Historical Society Board of Trustees
Member, Siouxland Heritage Museum Board of Directors


CIVIC INVOLVEMENT:
Member, Downtown Rotary
Member, St. Mary Parish, Sioux Falls, SD
Graduate, Leadership Sioux Falls
Member, Mary Chilton Chapter DAR
Member, P.E.O.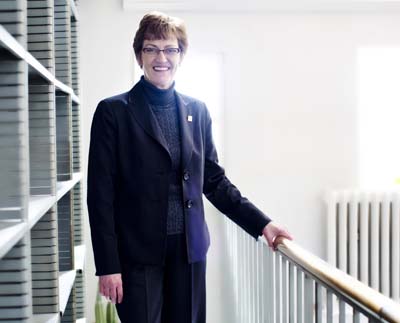 FAST FACT
My hobby is bird watching, and I have more than 200 species on my life list.
JOINED THE FIRM
May 1992